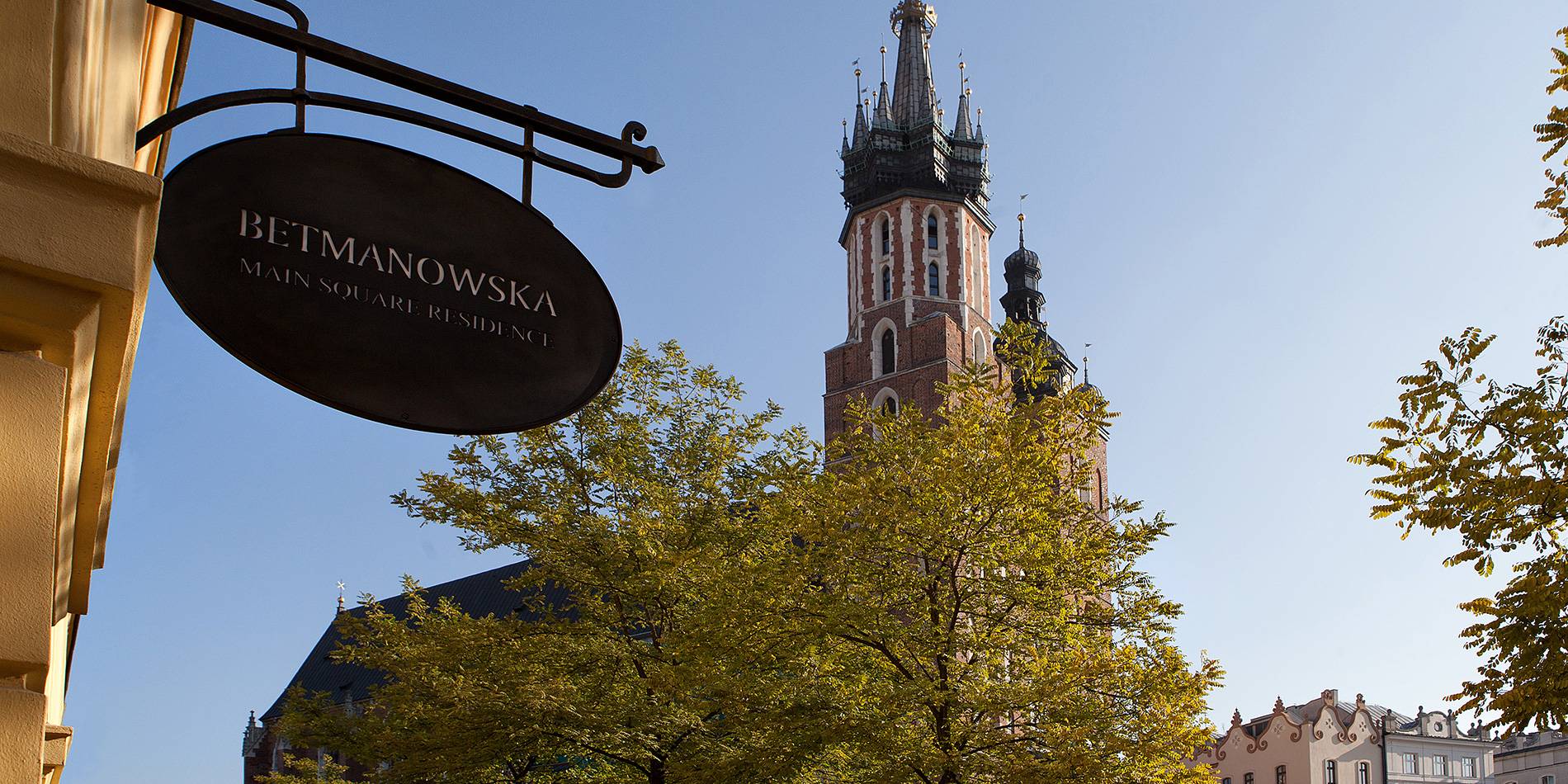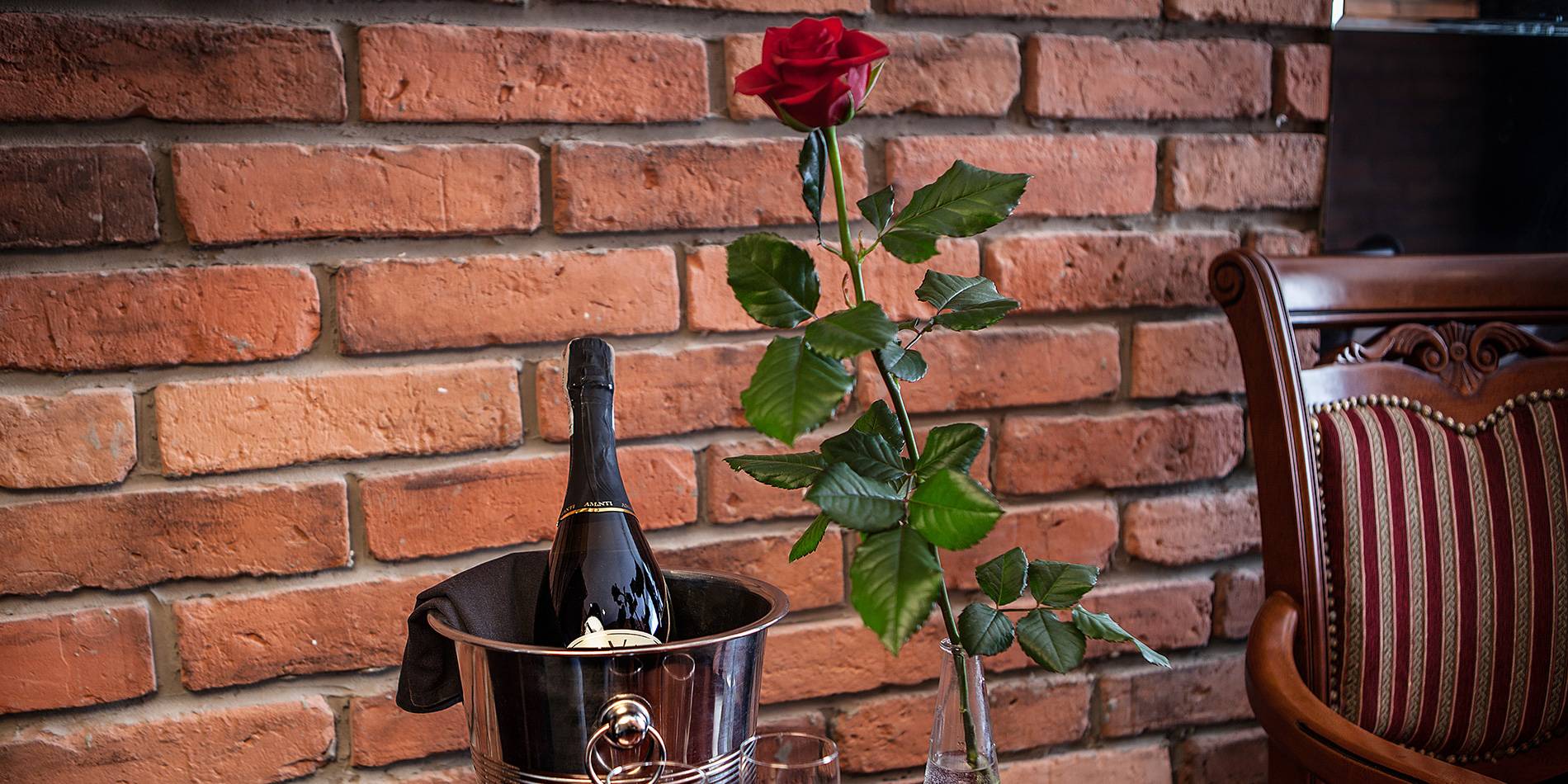 Full 1
We have prepared a special offer of luxury apartments rental in the monumental Betmanowska tenement house from the turn of 14th and 15th century.
Full 2
In each apartment you will find a welcome chilled bottle of Italian Proseco in a bucket of ice.
About us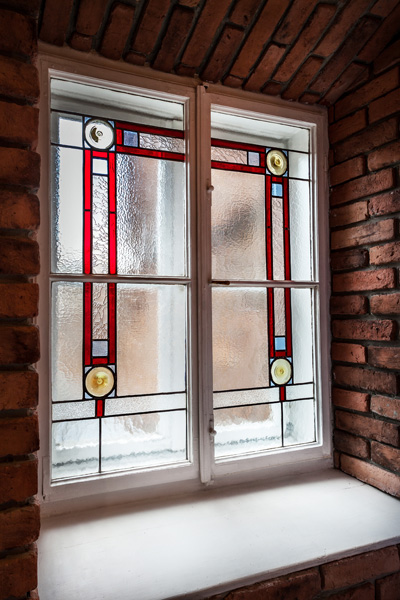 We have prepared a special offer of luxury apartments rental in the monumental Betmanowska tenement house from the turn of 14th and 15th century.
De Luxe, Junior Suite and Suite apartments overlook the biggest and the most beautiful main square in Europe – the Main Square in Kraków.
The windows of the rest of the apartments overlooking the outbuilding have been decorated with wonderful stained glass compositions created by Tadeusz Przybylski – an artist from Kraków.
All apartments have been equipped with double, comfortable beds, safe, individually controlled air-conditioning, ultra-quick and free WiFi, the most modern multifunctional TVs with flat panel display.
Each apartment has been equipped with a mini bar with free alcohol-free drinks supplemented every day.
Apartments overlooking the Main Square are equipped with a fantastic, private, 2-person jacuzzi. Each room has a sensational hydromassage shower cabin. In our bathrooms you'll find soft towels, comfortable bath robes and high-quality cosmetics.
In each apartment you will find a welcome chilled bottle of Italian Proseco in a bucket of ice.
Since we are located in a historical building, each of our apartments is different.
For our guests' convenience our newly-renovated tenement house has been equipped with a glazed elevator.
Extra beds:
Sofa or an extra bed: adults – PLN 100/night.
You eat as much as you can… PLN 59,99
Traditional Polish meat, cheese, curd cheese, eggs, herrings, tomato, pickled cucumber, dips, horseradish, lard, choice of honey and jams, cereal, yoghurts, grains, choice of bread, sweet home-made cakes, seasonal fruit.
We will prepare on demand:
Scrambled eggs, fried egg, omelette, sweet pancakes with white cheese / jam / nutella, sausages, white sausage of grilled tomato, grilled mushrooms.
Chilled Proseco and a range of chilled Polish vodkas is also served in our buffet.
Other drinks: coffee, tea, juices, water.
Offer available in the Karczma Staropolska restaurant, as well as in the Summer Garden, at the tables specially reserved for the Hotel guests.
We invite you to taste the selected dishes from the menus of both restaurants and a wide range of drinks from the Pub.
Day room service:
selected dishes, drinks.
Room service waiting time amounts to around 30 minutes. Room service is free of charge.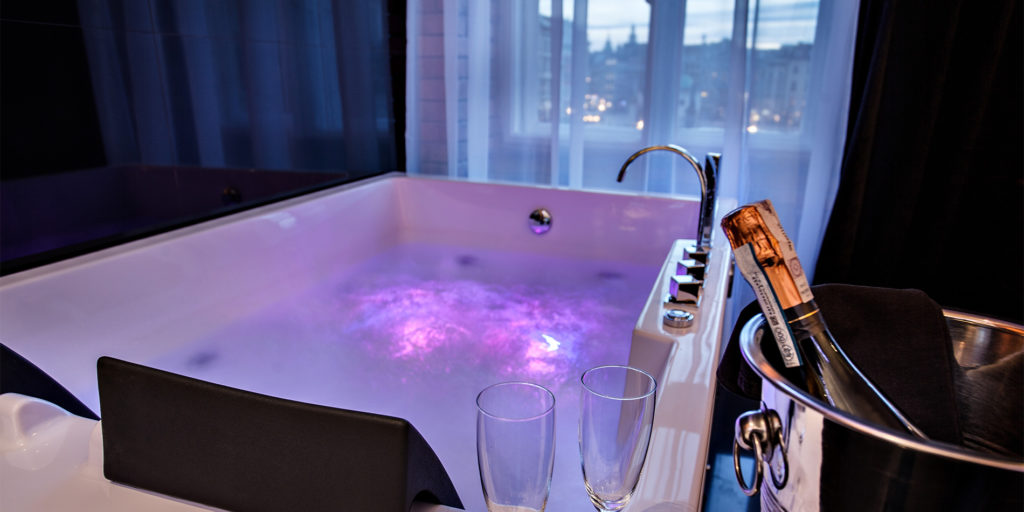 Others
To guarantee you the utmost comfort during your stay in our city:
on request we will transport you from Balice airport or the railway station with a private car;
will find a qualified tour guide, who will show you the most interesting places in Kraków.
We also recommend organised trips to the attractive places nearby Kraków:
visit to the Memorial and Museum Auschwitz-Birkenau;
visit to the Salt Mine in Wieliczka;
tour to Zakopane in the Polish Tatra Mountains;
tour to Pieniny mountains and rafting on Dunajec river;
many other attractions, also on individual request.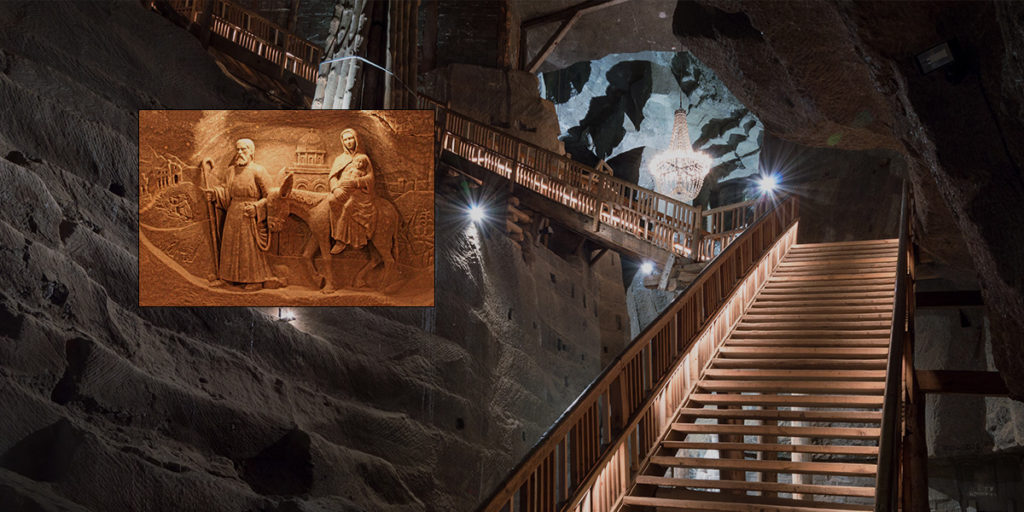 The "Wieliczka" salt mine is an invaluable monument of material culture of the world, inscribed in 1978 on the First List of UNESCO World Heritage Sites.
Wieliczka's history dates back to the Middle Ages, when it bore the proud name of Magnum Sal – Wielka Sól. As early as the 13th century it was known as the largest salt center in Poland and acquired great importance for the country's economy.
There is a salt maze deep underground! Those who do not know the way could easily get lost forever… The underground is measured and described by creating underground maps to always find a way in this endless tangle of longitudinal, transversal and ramps…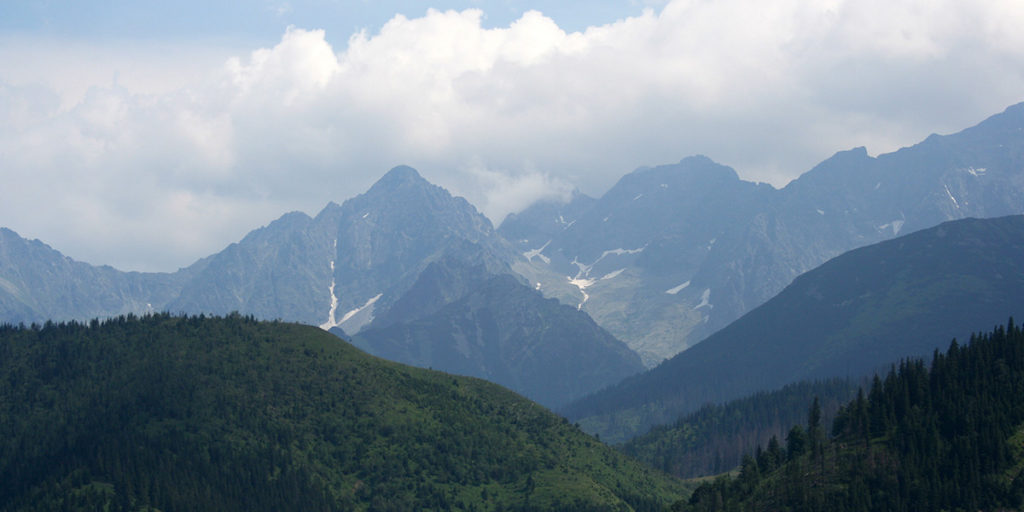 The Tatras are the highest mountain range in Poland and the highest massif in the Carpathian range. They are about 60 km long and 15 to 20 km wide. Its surface is almost 800 km².
Due to the terrain, Tary is divided into Belianske Tatras (Hawrań 2,152 m above sea level), High Tatras (Gerlach 2,655 m above sea level) and Western Tatras (Bystra 2,248 m above sea level). They are situated between four geographical and historical regions: Liptov, Orava, Podhale and Spisz, while the border between Poland and Slovakia runs through the Tatras, Orava and Spisz.
175 km² of the area of the described mountains belong to Poland.
They are protected within two national parks (Tatra National Park, TPN in Poland and Tatranský národný Park, TANAP in Slovakia).
The Tatra Mountains are unique in many ways: natural, historical and cultural. They have an interesting history of exploration. For years, they have enjoyed consistent popularity with tourists and researchers alike. The network of trails made available by the Tatra National Park is 275 km long.
You can go hiking, climbing, skiing (alpine, cross-country, mountain) and, to a limited extent, mountain biking.
Thanks to the cultural sheep herding program, tourists can taste the original oscypek sheep cheese and drink zéntyka (sheep's whey). You will also hear the royal dialect of the Podhale Highlanders and see them in regional dress.
Pieniny National Park occupies the most valuable areas of Pieniny Proper in terms of landscape and nature: the Three Crowns Massif, Pieniny Czorsztyńskie, Pieniny, Pieniny Przełom Dunajca.
35 km of trails are available to tourists. They also include rafting in the Dunajec Gorge, which is an attraction on a European scale (the route can also be done on foot along the Pieniny Road).
Observation galleries have been prepared for tourists in Trzy Korony and Sokolica. The ruins of Czorsztyn Castle and Niedzica Castle are also nearby tourist attractions.
(wikipedia)